Daniel Radcliffe Autographed Signed Handwritten Sticky Note ACOA LOA
Item Description
Obtained in person. 100% real, handwritten note from Daniel Radcliffe. We put this sticky note on an item asking Daniel to sign and asked him to "Add Harry Potter" below his signature. This was written by GTV Reality's founder, Giovanni Arnold. Daniel responded by writing "Sorry dude. Not my name! Dan" with a happy face. Extremely unique item for any Harry Potter fan! Authenticated and certified by the top celebrity autograph experts at AutographCOA (ACOA) Authentication.
Signed By:
Daniel Radcliffe
Date Signed:
January 2019
Location Signed:
New York, NY
Third-Party Authenticated

This item has been thoroughly reviewed and inspected by the autograph authentication experts at AutographCOA.com (ACOA).
Verification of this item's authenticity can be confirmed by visiting the AutographCOA.com web site and doing a certification lookup for this item. The ACOA certification number for this item is: RA65444
A Letter of Authentication (LOA) from AutographCOA Authentication is included with this item for lifetime documentation.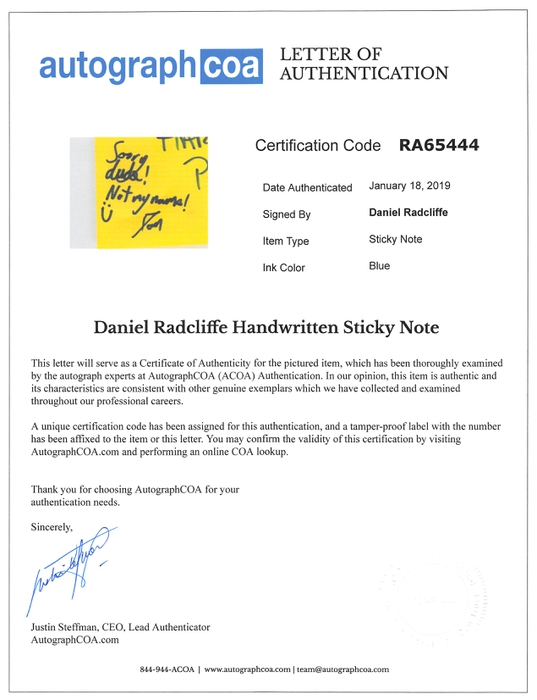 Authenticity Guarantee
My video camera is always rolling and I try to get exact video proof showing every autograph when it's possible. I guarantee everything I sell is authentic and I can assure that in absolute confidence because I'm there myself for every celebrity encounter. Lots of other autograph sellers buy and sell autographs from in person autograph seekers like me, but I obtain everything in person directly and through GTV Reality I'm bringing autographs directly to fans like you. Be sure to Subscribe to my eBay Store and follow me on social media where I post my latest successes and updates on fresh ink.
---
More from this collection