Bon Jovi Autographed Signed x4 Guitar Exact Video Proof ACOA LOA
Item Description
Extremely rare & very authentic. Signed by 4 members of Bon Jovi including reclusive member Alec John Such. Obtained in person at in Cleveland, Ohio when the band was being inducted in the the Rock & Roll Hall of Fame. Watch my exclusive video showing Jon Bon Jovi signing this item along with videos on GTV Reality YouTube channel showing the other members signing as well.
Signed By:
Jon Bon Jovi, Alec John Such, Richie Sambora and Tico Torres.
Date Signed:
2018
Location Signed:
Cleveland, Ohio
This Item Has Video Proof on GTV Reality:
Third-Party Authenticated

This item has been thoroughly reviewed and inspected by the autograph authentication experts at AutographCOA.com (ACOA).
Verification of this item's authenticity can be confirmed by visiting the AutographCOA.com web site and doing a certification lookup for this item. The ACOA certification number for this item is: RA60349
A Letter of Authentication (LOA) from AutographCOA Authentication is included with this item for lifetime documentation.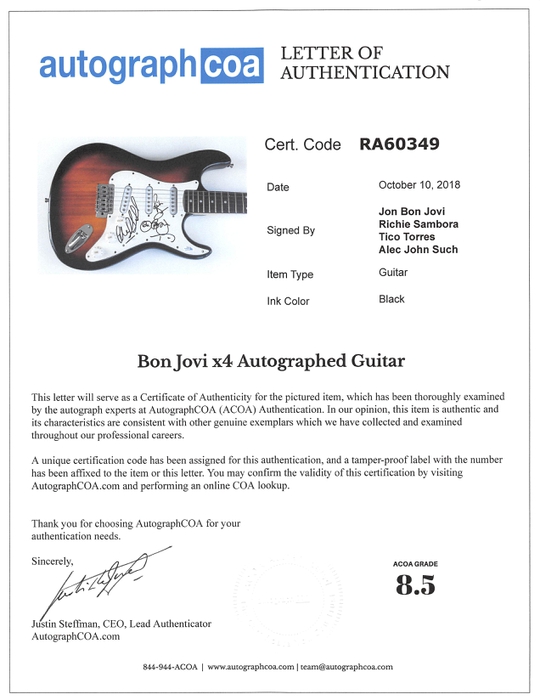 Authenticity Guarantee
My video camera is always rolling and I try to get exact video proof showing every autograph when it's possible. I guarantee everything I sell is authentic and I can assure that in absolute confidence because I'm there myself for every celebrity encounter. Lots of other autograph sellers buy and sell autographs from in person autograph seekers like me, but I obtain everything in person directly and through GTV Reality I'm bringing autographs directly to fans like you. Be sure to Subscribe to my eBay Store and follow me on social media where I post my latest successes and updates on fresh ink.
RACC Trusted Seller COA
RACC TS COA #:
AB10269
This item includes a RACC Trusted online COA issued by RACC Trusted Seller #113. Lifetime details of this autograph's origin can be verified by visiting the
RACCTrusted.com
web site and performing a COA look-up.
---
More from this collection